It is my older son's birthday weekend so I am getting ready for a Safari birthday party. Can't wait to share pictures with you. :)
In the meantime, here is today's Five Question Friday. Want to join in? Feel free to answer the questions in the comments section or create a blog post and share it with us. :)
1. What do you keep a stock pile of?
My husband will be the first to tell you that I don't really stockpile. He actually makes fun of me for it. If we are shopping and something is on sale for a really good price, I will grab one of the item and he will say "you sure love to stock up on good deals." :)
2. If Ben & Jerry asked you to invent an ice cream, what would it be?
It would be my favorite creation that I get at Cold Stone Creamery – vanilla ice cream with Reese's peanut butter cups, chocolate syrup and whip cream. I would call it the Peanut Butter Dream.
3. How do you blow off steam?
I am a crier so I usually cry if I am really frustrated. Then I will listen to music REALLY loud and that helps calm me.
4. What would you do if you had an hour to yourself anywhere within a ten mile radius of your home...no kids, no hubby, just you?
I would either get a relaxing massage or sit at the beach with a good book. I love having the beach so close to me! I never took advantage of it before, but now I love the calmness of it all.
5. When you were 16, what was your curfew in the summertime?
Curfew was around 10 pm – unless I was with my older brother then it was whenever he came home. :)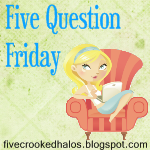 Pin It